David
Kasradze
Odontologist, oral surgeon - oral surgery, implantation services.

A member of the Society of Maxillofacial Surgeons, a member of the Lithuanian Chamber of Odontologists, a member of the European Academy of Osteointegration.

Licence number OPL - 05381.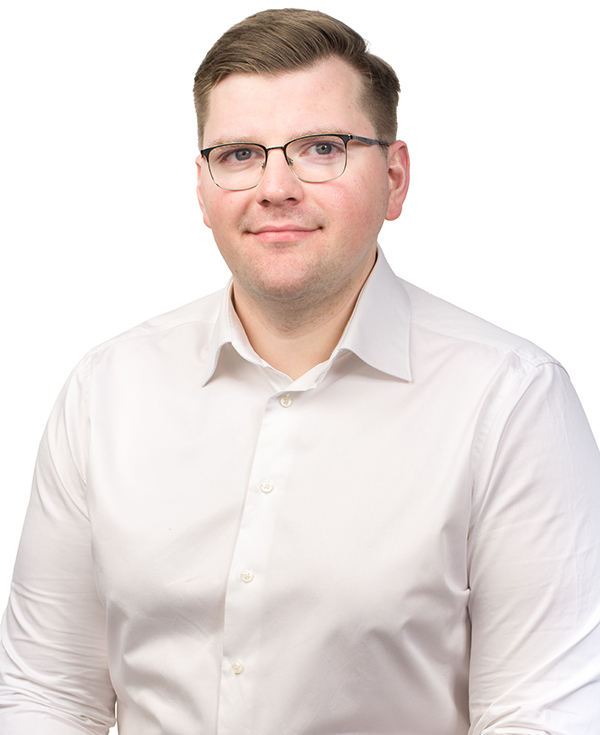 Register online
Short biography
2015 y.
graduated from the Faculty of Dentistry of the LSMU and obtained the qualification of the dentist
2018 y.
completed postgraduate studies in Oral Surgery
From 2019 y.
LSMU doctoral studies
From 2019 y.
MRU Bachelor's studies in Law
Odontologist`s biography
2013,2015
Congress of the Baltic Academy of Osteointegration
2013-2015
Innovations and Topicalities in Dental Practice
2014-2016
International Conference of the Chamber of Dentists of the Republic of Lithuania: From Idea to Achievement
2014
Progress in Dentistry - Towards Excellence
2014
Recovery of the Missing Jaw Applying the 'All on 4' Methodology
2014
Basics of Dental Implantation, Dr T. Koržinskas
2014
Educational seminar of LSMU SMD Circle of Odontologists and Hereaus Kulzer, Dr A. Tursa, Dr G. Kobs
2015
Dental Implantation and Prosthetics on Implants, Dr G. Gumbelevičius, Dr R. Pletkus
2015
Soft Tissue Manipulations Around Dental Implants, Dr S. Beshara
2016
Implantation in the Anterior Zone, Dr A. Puišys
2017
The Basics and Methodology of Instaneous Implantation, Dr. S. Beshara
2017
Dental Implants in the Aesthetic Zone: How to Achieve the Most Ideal Result? Dr A. Puišys
2016-2017
ITI Study Club Meetings
2018
International Symposium "Traumas in Maxillofacial Surgery", Riga, Latvia
2018
Prof. Dr. Ronald Jung's course "From tooth extraction to the final implant reconstruction: Decisions and timing", Basel, Switzerland
2018
European Association for Osseointegration Congress, Vienna, Austria
2018
Complications in Oral, Maxillofacial Surgery, Their Prevention and Solutions
2019
Soft Tissue Plastic Surgery in the Aesthetic Zone, Dr A. Puišys, Vilnius, Lithuania
2020
The Synergy of Guided Surgery and Digital Prosthodontics: ADIP Workflows, Dr V. Rutkūnas, Vilnius, Lithuania
2020
Sinus Lifting. NO EXTREME (AND WITH), the cycle of distant seminars, R. Jadach
2020
Rational Administration and Use of Antimicrobial Medicinal Preparations, distant seminar, Prof. A. Vitkauskienė
2021
Implantation and Prosthetics of Missing Jaws Using Static Surgical Guide Templates", Dr A. Puišys, Dr G. Bugelevičienė, Dr M. Aškelis, Vilnius
2021
Soft Tissues Around Dental Implants: Vestibuloplasty and the Creation of Keratinized Gums, Dr A. Levickienė, Vilnius
Scientific activities
2013
Pathomechanisms of Drug-Induced Taste Disorders, paper supervisor: Gintaras Janužis
2014
Effect of Saliva on Macrophage J774 Culture, paper supervisor: Prof. Rasa Banienė
2014
Modern Cancer Diagnostic Methods, paper supervisors: Prof. Gintaras Juodžbalys, Dr Žygimantas Guobis
2014
Changes in the Biochemical Composition of Saliva in Oral Oncological Diseases, paper supervisors: Prof. Ričardas Kubilius, Prof. Rasa Banienė, Assoc. Prof. Albinas Gervickas
2015
Discovery of Potential Salivary Biomarkers of Oral Cancer, paper supervisors: Prof. Ričardas Kubilius, Prof. Rasa Banienė
2015
Detection of Biochemical Alterations in Blood Serum for Oral Cancer, Prof. Ričardas Kubilius, Prof. Rasa Banienė
2015
Eponyms of Traumatology and Orthopaedics: Symptoms and Syndromes, Prof. M. Kasradze, D. Kasradze
2016
Kasradze D, Juodzbalys G, Cicciù M, Sudeikis A, Banys L, Galindo-Moreno P, Guobis Z. Modern molecular biomarkers of head and neck cancer. Part I. Epigenetic diagnostics and prognostics: Systematic review. Cancer Biomark. 2016;17(4):487-502. DOI: 10.3233/CBM-160666.
2016
David Kasradze, Mindia Kasradze, Artūras Razbadauskas. CHANGES IN GENE METHYLATION IN HEAD AND NECK CANCER SAMPLES. Health Sciences, Volume 26, Number 6, 2016
2018
Self-inflicted face gunshot injuries: two case reports. Gelažius R, Kasradze D, Gervickas A. Stomatologija. 2018;20(1):32-36.
2019
Presentation "Effectiveness of treatment methods for neurostomatological diseases" at the scientific-practical conference of the Lithuanian Society of Maxillofacial Surgeons
2019
Peculiarities of the Application of Personalised Implants in Clinical Practice (maxillofacial surgery), co-author of the refresher course of the LSMU postgraduate centre, lecturer
2020
Genetic and proteomic biomarkers of head and neck cancer. A systematic review. Kasradze D, Juodzbalys G, Guobis Z, Gervickas A, Ciccu M. J Can Res Ther. DOI: 10.4103/jcrt.JCRT_145_17
2021
Influence of clinical and technical parameters on accuracy of guided implant placement. Systematic review and meta-analysis." D. Kasradze, E. Segalytė, R. Kubilius