Lidija
Jarašienė
Odontologist, orthopedist - prosthetic services.

A member of the Odontologists' Chamber of the Republic of Lithuania. Licence No. OPL – 03668.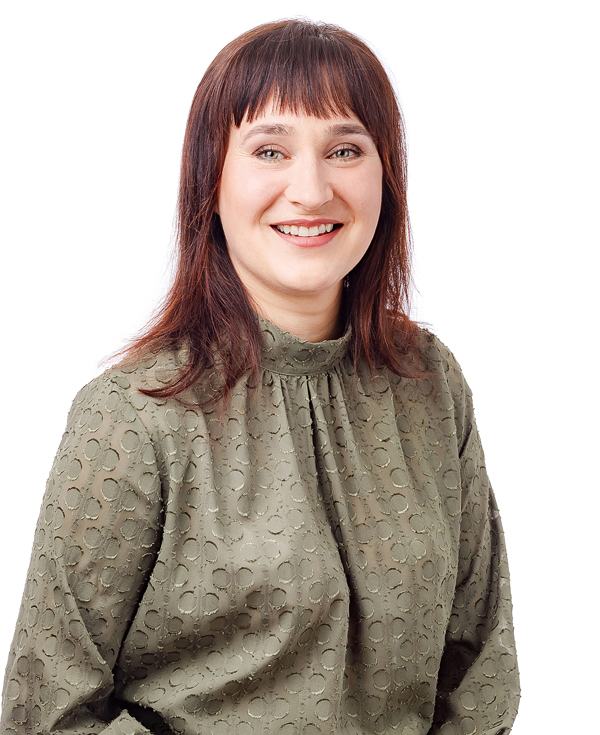 V. Grybo st. 32/10, Vilnius, LT - 10138
Short biography
2004
graduated from Vilnius University, Faculty of Medicine, obtained the qualification of an odontologist.
Odontologist`s biography
2020
International conference of the Lithuanian Dentists Orthopaedists Association (LOOD) "RECIPES IN DENTISTRY"/
2019
Dr. Nazariy Mykhaylyuk course "Analogs vs. Digital Dentistry".
2016
LOR International congress "Harmony of quality of life in oral health".
2016
VMG "Prosthetics of dormant jaws on dental implants. What happens after 10 years?".
2016
International conference of the Lithuanian Dentists Orthopaedists Association (LOOD) "Restorative Dentistry: What Can Be Better Done?".
2016
DT. Michael Bergler "CAD / CAM Prosthetics Technologies New: Workflow and Material Selection".
2015
LOR XI International Congress "Oral disease prevention and rehabilitation".
2015
International conference of the Lithuanian Dentists Orthopaedists Association (LOOD) "Complications Prevention in Orthopaedic Dentistry".
2015
Conference "Advanced dentistry today".
2015
4th International Conference LEFOS * CMFC "Aesthetics and Function".
2015
Congress "Modern implantology and periodontology are a challenge for teamwork", lecturers Dr. Markus Schlee, Dr. Luigi Canullo, Dr. Constanza Micarelli, Dr. Patrick Rutten.
2014
"Full oral aesthetic prosthesis. A comprehensive orthopedic approach: classics and innovations", lecturer Dr. Mauro Fradeani,.
2013
International congress "Dentistry for human health".
2013
1st International Conference on Eastern Europe "Interdiclinic aspects of craniomandibular disorders"..
2013
OOSK International Conference "Digital Dentistry Today".
2012
International Congress "Dentistry Today and Tomorrow".
2012
Training courses "Innovations in functional training", lecturer Prof. Dr. Georg B. Meyer.
2012
"Dental implantation: different approaches to perfection".
2011
International congress "Oral Health for Everyone".
2010
Conference "Dogmas in orthopedic dentistry. Critical approach".
2009
International congress "Patient safety in dentistry".
2009
Seminar "Innovative treatment concepts using new restorative materials and CAD / CAM based production methods", lecturer Prof. Daniel Edenlhoff.
2008
Conference "Challenges of Implantology - Beyond Osteointegration: Advanced Prosthetics and Biological Restoration".
2008
"3rd International Baltic Scientific Conference on Dentistry".
2008
Seminar "Functional, aesthetic and restorative aspects of the dental system in modern interdisciplinary dentistry", lecturer Prof. Dr. Georg B.Meyer.
2006
Courses "Function. Practical use of facial arch and articulator ".
2006
Conference "Science for Dental Practice".
Feedback
Patient, Rūta
Great morning, after a long and careful work of the doctors, I can finally smile! Thanks to
doctor L. Jarašienė and her assistant. They supported me morally, comforted me when I arrived
without teeth. I recommend everyone to collaborate and make a prosthesis with a doctor. L.
Jarašienė
Registration
By phone
You can book your visit by phone! If your call is not answered, we will call you back as soon as possible.
Online
This option allows you not only to select and prepay for procedures, but also to make booking, after which customer service specialists will contact you and help to choose the most suitable time.
Register